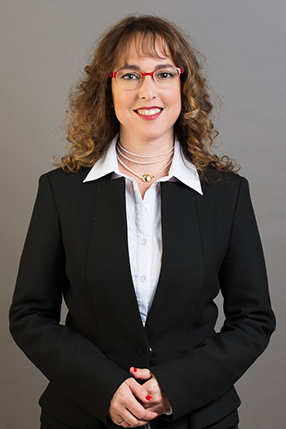 Disciplinary
Adv. Naama Zer-Kavod is a senior partner at Gideon Fisher & Co., managing the firm's Administrative department.
With over two decades of experience in the legal field, Naama managed the firm's Litigation department, and served as the firm's managing partner for over a decade, managing all of the firm's affaris and clients. In her various roles, Naama demonstrated versatile capabilities in guiding the various departments' activities, while showcasing a high level of proficiency in a wide spectrum of matters.
Naama is highly seasoned in all fields of civil law and litigation, with over 20 years in representing some of Israel's best known corporations, inside and out of court. Naama's track record of success in representation of her clients' interest before various court instances, including the Israeli Supreme Court, is supported by numerous precedential legal achievements in favor of her clients. Naama's expertise in the field of litigation is wide and diverse, extending over the fields of Commercial Law, Corporate Law, Public Tenders, Administrative Law and NGO's.
In addition to her practice in the field of litigation, Naama provides continuous legal counsel to well-known private and governmental corporations, in their local activities as well as their global ones. The counsel provided by Naama to her clients is distinguished by a high level of professionalism, widespread legal knowledge and full availability to the client and their needs. Along with continual counsel, Naama specializes in providing expert counsel in times of crisis, as well as management of problematic issues before escalating to wider legal disputes. Naama's vast knowledge in crisis management allows her to provide her clients with comprehensive and holistic service for their every need.
Naama's professionalism and experience is most demonstrated in highly complex and difficult cases, one of the firm's specialties. Naama is known for her out-of-the-box approach, requires in intricate cases in which conventional solutions will not bring about the desired outcome. Her creative manner of thinking, coupled with her rich experience and high level of professionalism, often assist her in reaching unconventional legal outcomes, in effort to meet the clients' needs, even in the difficult and "lost" cases.
Naama is uniquely skilled in the field of internal audit, in which the law firm of Gideon Fisher & Co. holds a unique niche. Naama has many years of experience in representation of entities and individuals, under the State Comptroller's purview, in an effort to minimize and diminish sanctions set within the Comptroller's annual report. Within this capacity, Naama has successfully represented many controlled entities, including governmental companies and dual-purpose companies, some of Israel's largest and best-known, as well as prominent public figures and municipal organizations. In addition, Naama has copious experience in working with the commission for prosecutorial oversight, which continues to expand its activity. In this respect, Naama is a legal pioneer, navigating in a field virtually untouched by any other firm, turning Gideon Fisher & Co. into a market leader, and the first firm that public figures turn to when confronted with administrative review.
In addition to her professional work, Naama volunteers in the "Shiur Acher" organization, coordinating legal studies in a school in Binyamina for over a decade, and teaching 6th graders every Friday.
Among Adv. Zer-Kavod's key clients are leading corporations in the Israeli economy, such as the Eilat-Ashkelon Pipeline Company, the Jewish National Fund and Israel's Airports Authority.
Education‎
LL.B. Law, Bar-Ilan University

Economics and Business Management Studies, Bar-Ilan University

Graduate of Planning and Construction Laws continuing education programs, Bar-Ilan University
Admitted to Bar Association

‎