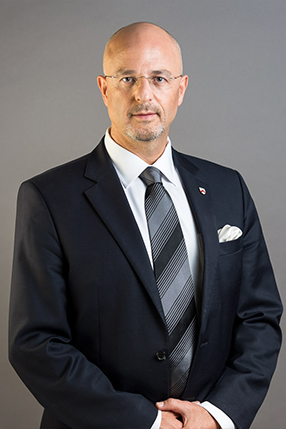 Disciplinary
Adv. Gideon Fisher is the founder and senior partner of the law firm of Gideon Fisher & Co. He serves as president of the Israel Bar Association's International Foreign Relations Committee and graduated magna cum laude from Cambridge University (LL.M.).
Recognized for his creativity and strategic vision, Adv. Fisher has developed an extensive practice over the past two decades representing a broad clientele in a full range of corporate and litigation matters. He has cultivated deep and specialized expertise in complex commercial litigation and international arbitration matters, serving as lead counsel in multiple high-stakes arbitrations, a member of the International Chamber of Commerce's Arbitration Board in Paris and Chairman of the ICC's Israel-international arbitration committee.
A tireless advocate on behalf of his clients, Adv. Fisher leverages his unique skills to obtain results that serve the long-term interests of his clients, which include corporations, not-for profit organizations, senior politicians and ministers, governmental authorities and major business leaders.
Adv. Fisher is also dedicated to public service. He serves as President of the Israel Press Council's Ethics Tribunal and is Chairman of the WIZO Israel Appeal.
Education‎
The International Arbitrations and Taxation Program, Law Faculty, Harvard University, United States

LL.M., magna cum laude, Thesis on International Business, Law Faculty, Cambridge University, Cambridge, England

LL.B, magna cum laude, University of Leeds, Law Faculty, Leeds, England
Public Service
The Fisher Fund - Chairman

Cambridge University Alumni Association in Israel - President

ICC's International Tribunal and Arbitrations in Paris - Member of the Board of Trustees (retired)

Israeli Media Council Ethics Tribunal - Judge

The Israel WIZO Appeal - Chairman (from 2004-2012)

Committee for the Appointment of Consultants to Companies owned by the State of Israel - Member

International Chamber of Commerce (ICC), International Arbitrations Committee - Chairman

Afeka College Board of Trustees - Member

Friends of Rabin Medical Center Society (Beilinson and Hasharon Hospitals) - Member

Friends of the Reut Medical Center - Member

Friends of the United Nations Association - Member

Israeli Forum Association – Chairman (retired)

Tel Aviv Rotary – Member of Management

Association for the Promotion of Ethical Values - Co-founder

Israel National Parents Organization - Chairman (2012 - 2015)

Recipient of Public Board Award for The Promotion of Women's Employment

Advisory Board for Israeli Cinema Tax Incentives - Chairman (Elected by Israeli Minister of Finance)

Israeli Prime Minister's CFO Forum Award - Member of Board of Judges

Council of the Internal Comptroller's Office - Member

Tabeka Ethiopian Association - Member of Management
Legislative Activity
Prompted and drafted Amendment No. 2, 5753-1993 to the Consumer Protection Law, 5741-1981, legislated by the Knesset in August, 1993

Prompted and drafted a bill to amend the Standard Contracts Law, 5743-1982, and revision of Section 20(A) to the Income Tax Ordinance

Representative of the Israel Bar Association on the sub-committee to the Constitution, Law and Justice Committee to draft the Computers Bill 5754-1994, legislated by the Knesset in 1995
Academic/Teaching
Coordinator of the legal curriculum and senior lecturer for the Internal and Public Audits Master's Degree Program at Bar-Ilan University

Lecturer on International Trade Law at Bar-Ilan University, Israel Export Institute, Israeli Management Center, International Trade College, The Israeli Information Technology Association (ILA), and at commercial bank training centers

Lecturer on Public Tenders and Computers Law at academic centers for Senior IDF Officers

Lecturer on International Law at Tel-Aviv University, Law Faculty
Publications
2016: "Arbitration in the business world" - Author
2005: "Rich Father, Poor Father," by Robert Kioasky – Author of Legal Interpretation of Hebrew edition
2002: "Contract To The Point" (Published by Diyunon) - Author
2000: "Antitrust and New Media" (published by Kluwer Law) - Co-Author
1999: "The New Companies Law, In Practice" (published by BDO Ziv Haft CPA Firm) - Co-Editor and Co-Author
1999: "Webvertising – Unfair Competition and Trademarks on the Internet" (published by Kluwer Law) – Co-Author
1997: "The Financing of Start - Up Companies" (published by AIJA) – Co-Author
1996:‎ "Israeli Business Law" – Author of Chapter on Computer Law

1993: Economics Journal of Law - European Transport Law ((II No. VXX, Vol). No. 4 - Author

1993: "Israeli's Bank Liability Under Documentary Credit" (published in Maritime & Commercial Law Quarterly by Lloyd of London Press) (1-144, part 1) - Author